Scrum Cooking is a fun way to get more out of your scrum team. The Dutch agile training agency NIPON offers this effective workshop also in English. With cooking we create a practice setting that allows the real team dynamics to emerge. Which we than can start working on. Scrum Cooking is an Agile training and cooking workshop in one.
---
Let's cook!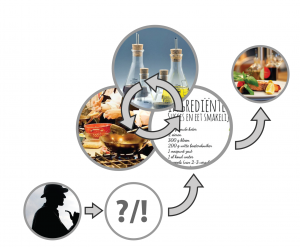 Although we take into account your specific team dynamics and wishes, the basic format is the same: We start somewhere between 14:00 and 16:00 with an introduction. After a short briefing, we divide the group into scrum teams. These teams will compete against each other to develop the best dish in four short sprints. We use the three scrum roles (scrum master, product-owner and specialists), the ceremonies (sprint planning, daily stand-up, review and retro) and of course the scrum board and post-it's. The sprints last a maximum of one hour. The team that uses agile and scrum best, wins (in our experience it is also this team that produces the most tasty dish).
One of the outcomes of the Scrum Cooking session is a delicious multi-course dinner. The teams not only prepare their dish, but also serve it to the whole group. NIPON provides dressed tables, candlelight and matching drinks.
Accompaniment
The teams are professionally supervised by a culinary team, led by an agile coach / chef. The number of chefs and support staff depends on the group size.
Foreknowledge
For the workshop it is not necessary for the teams to be able to scrum. The scrum cooking is instructive for beginners and advanced. We would like to hear in advance how it is with the 'Agile Maturity' so that we can adjust our program here. In dividing the team roles scrum master and product-owner, we take into account the experience level.
Upgrade
Many clients choose to combine scrum cooking with a somewhat deeper session on Agile work and the role of the scrum framework in this. NIPON offers an extension that starts an hour earlier with an effective customized training based on your team (problem). We will add an experienced Agile coach / trainer to the team, who will watch the entire session and give specific feedback in the final retrospective. An additional charge applies for this expansion.
Location book
Because we plan the last sprint against dinner time, the scrum starts cooking between 15:00 and 16:00. In most cases it is possible to book our meeting location earlier. Ask host Jeremy Buisman about the possibilities.
Information and bookings
For questions and a quotation you can call with our host Jeremy Buisman on +31 30 – 34 10 34 9. The workshop scrum cooking is popular, so we advice you to book in time.
---
Tip: Has your team already experienced scrum cooking? Would you like to go deeper into the matter? Is your team stuck? NIPON might offer the right training.